STUDIO-BASED TEACHING & CRITS

Art Programme (AP) runs studio intensives and studio crits for experienced artists (post-bachelors or equivalency). The intensives are facilitated by fellow artists with successful, local and international exhibition practices that span the full range of methods and materials, bolsted by extensive studio teaching experiences.
A focus of AP studio tuition is to establish supportive and collegial studio crit sessions, in line with our aim to build strong community connections.
Our studio pracs provide valuable environments to either deepen an existing practice, or to rethink or relaunch a new direction, method or medium.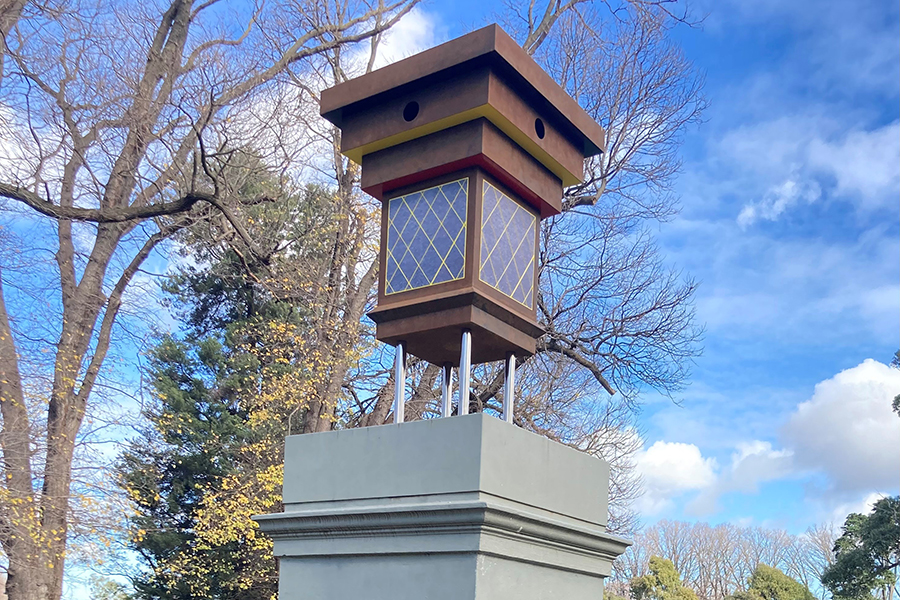 Steven Rhall. 'Tanderrum (inverted plinth)
2022
Stainless-steel & aluminium with Corten paint finish
1745h x 1065w x 1065d mm.
The sculpture operates on various levels in response to its siting on Wurundjeri Country within the Edinburgh Gardens.
Its primary operation subverts and inverts the colonial history and associated power of its 'base,' including that of the gardens, which continue to operate as a vestige of the site (and broader Narrm's) colonial layers.
It articulates First People's identity, resilience, strength, self-determination and connection to the area as supported via the work's discrete aesthetic elements.
NOVEMBER 2022
Breaking in. Broaching.
Interrogating Space
Breaking in. Broaching.
is a spatially themed studio-prac, held over 4-weeks from 15 November in the Edinburgh Gardens, Fitzroy North
*
It has been devised for graduate (or equivalent) artists to explore ways of thinking about space via the catalysts of fiction, poetry, philosophy and music.


The studio-prac is facilitated by Ry Haskings for AP.


The four themes: Utopia, The Exhausted, Tanderrum

(Inverted Plinth), and Multiplicity will be the provocations for each week, accompanied by a guest artist or writer.



It offers an opportunity to connect with other artists and their work.


Supportive studio crits of participants' work will be held over the four weeks


AP is offering full scholarships for First Nations' artists to participate in the studio prac. See below

*
The Emely Baker Centre, north side of the gardens
Wednesdays x 2 hours: 18:30–20:30
Week 1. Nov 15
Utopian Space /
Masato Takasaka
Week 2. Nov 23
The Exhausted /
Jan Bryant
Week 3. Nov 30
Tanderrum
(Inverted Plinth) /
Steven Rhall
Week 4. Dec 7
Multiplicity /
Lucina Lane
First Nations artists please enrol by emailing Jan Bryant
artprogramme68@gmail.com
2.
TBA : Filmmaking for artists / artist films

Art Programme operates on the unceded lands of the Wurundjeri of the Kulin Alliance and acknowledges and pays respect to their Elders past and present. We offer our ongoing support for the Victorian State Government's Treaty process and hold expectations that the Federal Government will recognise the Uluru Statement from the Heart (2017) that asks for Federal parliamentary voices for Australia's first peoples.